Connecting Regulators - Patio Gas
21st Jan 2016
How to connect a snap-on patio gas regulator
The 5kg and 13kg Patio gas cylinders avaiable from CALOR feature a 27mm valve fitting. 99% of modern barbecues and patio heaters will be supplied with a 27mm snap-on regulator, however you can always double check the underside of your regulator for compatibility.
Step 1
Pull the yellow safety cap off the cylinder valve by lifting upwards.
Step 2
Before connecting the regulator, make sure that it's switch is in the off position.
Step 3
Put the regulator over the cylinder valve and push down until you hear it click.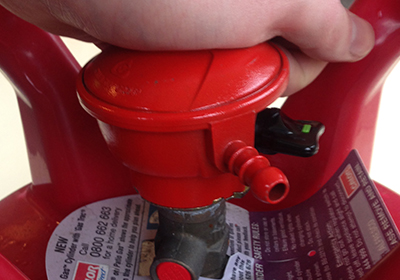 Step 4
When you need to use the gas, turn the switch anti-clockwise to the 'on' position.
Please follow the maunfacturers instructions when fitting any gas regulator. Although most regulators work in a similar fashion, the designs do vary. When you finish using your appliance, reverse Step 4 to stop the flow of gas.
Note: If you find that the on/off switch gets stuck when turning, the regulator may be incorrectly fitted. Repeat Steps 1 through 4.
---
How to Disconnect a snap-on patio gas regulator
Step 1
Turn off your gas appliance before disconnecting your regulator and ensure that the regulator is in the 'off' position. This can be acheived by turning the switch anti-clockwise.
Step 2
Push the on/off switch in against the regulator, this will unhook the regulator which you can simply lift off.